Autor: George R. R. Martin
Název: A Game of Thrones (Book one of A Song of Ice and Fire)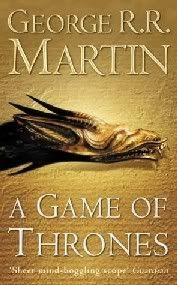 Pro koho to je?
Pro milovníky epické fantasy a komplexních světů. Komu se líbí Feist a Tolkien, tomu se bude pravděpodobně líbit i Martin – jeho knihy jsou ovšem méně popisné než Tolkienovy a o něco rozvláčnější než Feistovy. Ti z vás, kteří ocení spletitý příběh promyšlený do detailů a mistrně rozvité postavy, si Martina určitě užijí.

O čem to je?
Lord Eddard Stark, Ochránce Severu, je jmenován Rukou Krále Roberta, který je jeho dobrým přítelem z mládí. Eddardovi (zvanému Ned) se to vůbec nelíbí, přesto ale post přijme, protože víceméně nemá jinou možnost – kdyby tak neučinil, nabídne král úřad bratrovi své manželky, Jaimemu z rodu Lannisterů. Lannisteři jsou už tak značně mocní (a mocichtiví) a představují velké nebezpečí.
Ned s rodinou opouští své sídlo a vydává se do královského města. Sotva se ale zabydlí a král Robert "nešťastnou náhodou" přijde o život. Po řadě nečekaných odhalení a machinací dochází k vypuknutí války…
Mezitím se u Zdi, která odděluje civilizovaný svět od Prokletého Lesa na severu, dějí znepokojivé věci. Noční Hlídka, bratrstvo, jež má za úkol bránit království před temnotou ze severu, varuje před příchodem další velké Zimy – Léto trvalo mnoho let a Zima bude dlouhá a temná.
A aby toho nebylo málo, mimo Sedm Království se rozehrává další hra – dědička dračího krále, kterého král Robert před lety přemohl a svrhl, dospívá a po dlouhých letech nabývá sil. Chystá se získat zpět Sedm Královstí, která jí právem náleží…

Úryvek
And there came a second crack, loud and sharp as thunder, and the smoke stirred and whirled around her and the pyre shifted, the logs exploding as the fire touched their secret hearts. She heard the screams of the Dothraki raised in shouts of fear and terror, and Ser Jorah calling her name and cursing. No, she wanted to shout to him, no, my good knight, do not fear for me. The fire is mine. I am Daenerys Stormborn, daughter of dragons, bride of dragons, mother of dragons, don't you see? Don't you SEE?
With a belch of flame and smoke that reached thirty feet into the sky, the pyre collapsed and came down around her. Unafraid, Dany stepped forward into the firestorm, calling to her children.
The third crack was as loud and sharp as the breaking of the world.
When the fire died at last and the ground became cool enough to walk upon, Ser Jorah Mormont found her amidst the ashes, surrounded by blackened logs and bits of glowing ember and the burnt bones of man and woman and stallion. She was naked, covered with soot, her clothes turned to ash, her beautiful hair all crisped away… yet she was unhurt.
The cream-and-gold dragon was suckling at her left breast, the green-and-bronze at the right. Her arms cradled them close. The black-and-scarlet beast was draped across her shoulders, its long sinuous neck coiled under her chin. When it saw Jorah, it raised its head and looked at him with eyes as red as coals.
Wordless, the knight fell to his knees. The men of her khas came up behind him. Jhogo was the first to lay his arakh at her feet. "Blood of my blood," he murmured, pushing his face to the smoking earth. "Blood of my blood," she heard Aggo echo. "Blood of my blood," Rakharo shouted.
And after them came her handmaids, and then the others, all the Dothraki, men and women and children, and Dany had only to look at their eyes to know that they were hers now, today and tomorrow and forever, hers as they had never been Drogo's.
As Daenerys Targaryen rose to her feet, her black hissed, pale smoke venting from its mouth and nostrils. The other two pulled away from her breasts and added their voices to the call, translucent wings unfolding and stirring the air, and for the first time in hundreds of years, the night came alive with the music of dragons.