Turecký národní bestseller. Nevím, jestli je dostupný v ČR, a jsem si téměř jistá, že česky to nenajdete. Doufám, že můžu dodat zatím a jednou se to dostane i sem.

Autorka: Buket Uzuner
Název: The Long White Cloud - Gallipoli (Uzun Beyaz Bulut - Gelibolu)

In memory of
Lieutenant Ali Osman Bey,
Private Alistair John Taylor,
Ghazi Sergeant Alican
and all those who lost their lives
in the Battle of Gallipoli of World War I...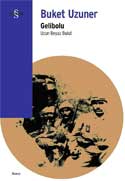 O knize:

Třicetiletá psycholožka Victoria Taylor z Nového Zélandu přijíždí do Gallipoli. Věří, že její praděd Alistair John Taylor nezemřel v bitvě u Gallipoli v roce 1915, ale že je touž osobou jako turecký válečný hrdina Sergeant Alican Taylar. Vzbudí pohoršení a zvědavost nejen obyvatel malé vesničky Eceyaylasi, ale i celého Turecka a Nového Zélandu. Jak může být jedna osoba hrdinou pro obě válčící strany a navíc v té samé bitvě?!
Vicki je tři týdny hostem u Auntie Beyaz, dcery Ghazi Sergeanta Alicana. Pročítají staré dopisy psané oběma hrdiny. A také Ali Osmanem Bey, který svou smrtí zachránil Alicanovi život. Dokazuje něco podobnost příjmení (Taylor a Taylar) nebo to, že Taylarovi děti se jmenovaly Uzun, Beyaz a Bulut, což znamená Dlouhý, Bílý a Mrak? Dlouhý Bílý Mrak - domorodý název Nového Zélandu. Je historie něco, co by mělo být čteno postupně? A kromě toho, měla by být přepsána? Může vůbec být přepsána?

LWCG je kniha, jíž podobnou jsem v životě nečetla. Nevím, jestli je to tím, že ji psala turecká spisovatelka. Každopádně je jiná. Nenadržuje ani jedné straně. Je psána z pohledu Vicki v Gallipoli (rok 2000), prokládána dopisy z roku 1915. A jak napsal prof. Talat Halman - "... Very few writers in world literature have succeeded to turn the meaninglessness and mystery of war, and its miracle of connecting people beyond enmity into a page-turner. ..."
Co mě také zaujalo, byly popisy věcí, které v jiných knihách nenajdete. Vysvětlení toho, proč ten udělal to a ten ono. Jiné vysvětlení, a přesto pravdivé. A jde jak o úplně obyčejné věci každodenního života, tak i o věci "neobyčejné".
V neposlední řadě člověk poznal turecké zvyky a kulturu.

Vybrat nějaký kus a napsat ho sem je těžké, ne-li nemožné. Buď to bude jen odstavec, kde nepocítíte onu atmosféru, nebo ano, ale nepochopíte děj.
Přesto jsem listovala a našla tohle...

Vicki looked tired when she ended reading the letter. She turned toward Auntie Beyaz:
"That was one of the letters I inherited from my great-grandfather, Alistair John Taylor," she said.
Auntie Beyaz was calmly counting her prayer beads and moving her jaw that had dentures on it as if sucking something. She seemed not to have heard or understood the letter that Vicki just read. Not a leaf stirred on her face.
"My great-grandfather's older brother, William, died at Gallipoli. Their friend Russell returned to New Zealand as a disabled veteran who had lost one of his legs at Gallipoli. The Arab fortune-teller had guessed their fate. Only my great-grandfather Alistair John Taylor was missing. No news was received of him. And his body was never found. Ever. His name was among the list of the missing, and there it always stayed. But my great-grandfather was alive. He was living here, in Gallipoli. The Arab fortune-teller had been right on that count as well. I don't have any definite proof, Auntie Beyaz, but ever since the day I first heard the story and ever since I read these letters as a young girl, I have been convinced of this fact: My great-grandfather did not die at Gallipoli."
Auntie Beyaz was gazing out the window, looking completely serene as she moved her lips and handled her prayer beads.

Před časem jsem na svůj LJ přepsala kousek dopisu...

... Iskender of Skopje, like all born leaders, knows where and how to speak successfully, and he exerts a great deal of influence. Sometimes he exudes such a sense of awe and strength that I can almost see it with my eyes and touch it with my hands, and this frightens me. From time to time I am truly startled by my devotion to and extreme admiration for Iskender, probably because I know I have never felt this close to anyone outside my own family. I am convinced that due to our extraordinary circumstances we are all more susceptible to exaggerate, and that this heightened sensitivity is the reason I have come to regard Iskender as something like a superhuman. Perhaps his stable and trustworthy character fills some of the void left in me after my father's untimely death... I cannot say...
I shot him a look of gratitude after the short but powerful speech he gave to the soldiers on the battlefield. I looked, and saw him in actuality. I saw how sad and alone he was behind that cheerful and robust visage, how fragile he was beneath his hard shell. I believe I saw this only because he let me. I realized that I would not be able to commiserate with him there in public, so I mounted my steed to head back to my division. Then he approached me and said, "Are we not sworn brothers after all, Lieutenant Ali Osman Effendi? If not in this world, we will commiserate in the hereafter, brother." I smiled before I rode away. My smile froze on my face. Then, with a sudden shudder, I left.

A taky něco, nad čím jsem se musela usmát:

They were carrying on most of their conversation in English, for Vicki's benefit. Although Auntie Beyaz's elaborate, heavily accented British English, Mehmet's heavily Turkish accented English, picked up from books and tourists of various nationalities, and young Ali Osman's American-spiced English created an incredible array of sounds, what inevitably dominated the conversation was the Turkish words and phrases.